Live Sports Bar Menu
Dinner
APPETIZERS AND SNACKS
CHEESE NACHOS
-
175
Crispy Nachos with Black Olives, Jalapeno Peppers, roasted Bell Pepper and Mixed Cheese served with a Sour cream and a Tomato Salsa
CHICKEN STRIPS
-
150
Fried Crispy chicken filet. Served with mesclun leaves . and sweet chilli sauce
FISH & CHIPS
-
180
Classical fish and chips, served with Fries, mashed peas and Tartar Sauce
KONAFLAFEL SHRIMP
-
240
Deep fried Marinated Shrimps Wrapped with traditional Egyptian falafel with konafa wrapped served with mesclun leaves .served with Tahini Avocado
LARGE COMBO PLATTER
-
290
Crispy fried Chicken Wings, Konafa Shrimp, Fried Mozzarella Sticks, Blue cheese mushroom beef slices , served with LSB Chilli Sauce and Garlic Mayonnaise
SALADS
CAESAR SALAD
-
90
Iceberg Lettuce, Parmesan shavings, Croutons and Anchovies, Classic Caesar Dressing and homemade Bread.
TANDOORI QUINOA
-
120
Marinated tandoori Chicken, mix Garden Green, Quinoa, cherry tomato, mint chutney
TUNA SALAD
-
190
Seared Red "Saku" Tuna with Mixed Lettuce, Red Radish, Asparagus, Cherry Tomatoes, Ginger pickles. Sesame oil
LIVE SPORTS BAR" SALAD
-
160
Mesclun lettuce ,Avocado, sautéed Shrimps, Cherry Tomato, Sweet Corn, Roca served with Cocktail Sauce
BUFFALO SALAD
-
130
Tender Buffalo Cheese, mixed Garden Green Salad and Tomato wedge served with basil sauce and balsamic sauce
SOUP
TACOS
-
80
Stew of Meat beef ball, chickpeas, tomatoes, green chilli, sweet corn, onion, red kidney beans, served with crispy tacos
FISHERMAN BOAT
-
110
Cream of Mix seafood soup , shrimps, calamari, , Blue Crab and black mussels, with fresh avocado, ginger, fresh Coriander, garlic bread
SANDWICHES
ROGAN SALMON
-
290
Smoked Salmon in rogen flex Bread, Lettuce, Capers, Pickles and Onions Served with Garden Green Salad and Ranch Sause.
STEAK SANDWICH
-
290
Marinated130g US Beef steak spread with Olives Tapenade, Brie Cheese, French fries ,Mushrooms and Caramelized Onions. Served with Steak Sauce
CRUNCHY SHRIMPS
-
290
Fried Crunchy Shrimps, lettuce, Guacamole Salsa, Cheese sauce, Jalapeno served with spicy sauce in sesame Beetroot Ciabatta
LAYERED CHICKEN
-
240
Fried chicken Breast topped with Jalapeno cheese sauce, Served with Smoked Turkey ,Lettuce, Tomato, Pickled Cucumber and Tomato Salsa on the side
COW BOY SANDWICH
-
220
Grilled Chicken Brest ,smoked Beef topped up with Olives tapenade melted Cheddar Cheese, fried egg Lettuce, Pommery Mayonnaise in rogen flax Bread
FROM THE GRILL
Lamb Chops 4 Cuts AUS
-
390
Premium Beef & Lamb Cuts for you! All Served French Fries Sautéed Vegetables. Or of your choice from the Side dishes and sauces
Beef Fillet 200 gram DAN
-
520
Premium Beef & Lamb Cuts for you! All Served French Fries Sautéed Vegetables. Or of your choice from the Side dishes and sauces
T-Bone 340 gram US
-
580
Premium Beef & Lamb Cuts for you! All Served French Fries Sautéed Vegetables. Or of your choice from the Side dishes and sauces
Rib Eye Steak 250 gram US
-
620
Premium Beef & Lamb Cuts for you! All Served French Fries Sautéed Vegetables. Or of your choice from the Side dishes and sauces
BEEF BURGER
-
240
A 200 gram homemade Beef Burger, Lettuce, Tomatoes, Cucumber Pickles, Onions, served in a large Kaiser Bread Bun, serve with Tomato salsa and French Fries
GRILLED BUTTERFLY CHICKEN
-
220
Marinated grilled chicken breast served in a large Kaiser Bread Bun, Cucumber Pickles, Fresh avocado, LSB Spicy chilli Sauce French Fries
MAIN COURSES
CHICKEN FAJITA
-
270
Sizzling Chicken Fajita with bell pepper, onion, tomato's, Jalapeno toped with mix cheese cheddar and mozzarella , fresh coriander, served with soft tortilla bread and Guacamole dip
GINGER GARLIC CHICKEN
-
270
Marinated boneless Leg of chicken marinated with Ginger, fresh Coriander served French fried , mix garden greens, Garlic yoghurt Sauce ,LSB chili Sauce
WIENER SCHNITZEL
-
320
Fried Crumbled veal, French fries, sautéed vegetables and garlic butter sauce
CRUSTED JUMBOS SALMON
-
320
Baked Salmon with Crusted Jalapeno tacos , served with Mashed potato and Sautéed vegetables .Garlic butter sauce, LSB chili Sauce
CILANTRO SHRIMPS
-
340
Completely baked Jumbo Prawns in melted cilantro garlic butter served with stemmed Rice sauce and Seasonal vegetables
LSP ocean's platter
-
460
Mix Grilled of seafood, shrimps, salmon, seabass served with sautéed vegetables, Steamed rice and lemon butter dill sauce
DESSERTS
Apple Strudel
-
120
Traditional apple , scoop of vanilla ice cream tropical sauce
Fresh Cut fruit
-
125
Fresh seasonal cut fruit
Orio cheese
-
135
Home backed Cheese cake flavored with Orio and berries sauce
LSP Molten
-
145
Warm Molten cake served with vanilla ice cream and Chocolate Sauce
(A) Contains Alcohol (D) Contains Dairy (N) Contains Nuts (S) Contains Shellfish (V) Vegetarian (G) Gluten
Burger and Beer
Live Sports Bar offering a massive burger and a cold beer, That's what we call the perfect match!
Pick your homemade juicy burger while you are enjoying your cold beer and live sports actions for only 350 EGP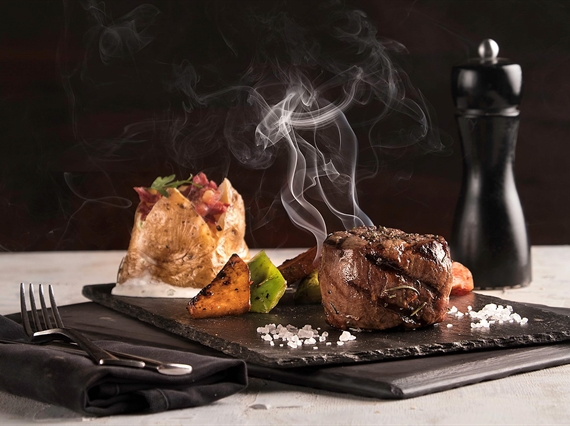 Steak Promotion
Order any USA Beef steak and get unlimited soft drink refills. Choose froma diverse of succulent steaks including Rib Eye Steak, Beef Tenderloin or Beef Striploin the finest cuts creatively paired with Roasted Seasonal Vegetable, Fresh French Fries served with Gravy Sauce